CALIFORNIA | OREGON | HOME | SOUTH DAKOTA | COLORADO | MISSOURI | MONTANA | KENTUCKY
ALTURAS & MODOC COUNTY, CALIFORNIA INFORMATION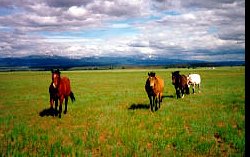 Alturas is located in Modoc County (of which it is the county seat) northeast of Redding between the Oregon state line and Susanville along US Highway 395 near the Big Sage Reservoir and Goose Lake.
Modoc County was created February 17, 1874, from an eastern section of Siskiyou county. It derived its name from a fierce Indian tribe which lived at the Pit River headwaters. One historian suggests that the word modoc means "the head of the river." Another states that the word is derived from the Klamath word moatakni meaning "southerners," i.e., the people living south of the Klamath tribe.
Links to Alturas & Modoc County information.
Bid on Land up for auction NOW! on

---
CALIFORNIA | OREGON | HOME | SOUTH DAKOTA | COLORADO | MISSOURI | MONTANA | KENTUCKY
HC71, Box 495c
Hanover, NM 88041
Toll free (800) 724-0551
copyright