Select Menu: Danville Kentucky || Kentucky Home Page || Cornett Farms Photo Album 1 || Cornett Farms Photo Album 2

LIBERTY, KENTUCKY
CLICK HERE
to jump to Liberty Kentucky informative links!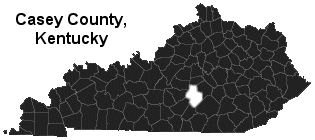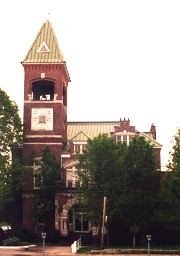 Liberty is as American as its name. The seat of Casey County, it is beautifully situated at the headwaters of Kentucky's famed Green River. Easily reached on U.S. Highway 127 and State Highways 49 and 70, Liberty is just 27 miles south of Danville, 53 miles southwest of Lexington, 145 miles to Cincinnati, Ohio, 163 miles to Nashville, Tennessee, 192 miles Knoxville, 425 miles St. Louis and within 485 miles of Chicago. Small jet airplanes use the Liberty-Casey Airfield.

People seem friendlier in Liberty and living is easier. There are friendly churches, well-stocked stores, active civic and social organizations, beautiful homes on tree-lined streets, a lovely country club, a well-staffed hospital with an adjacent clinic and an excellent school system. For those seeking a higher education, there's a vocational school in Liberty, and Centre College in Danville, which is only 25 miles south. The University of Kentucky Extension College, Campbellsville College and Lindsey Wilson Junior College are also within commuting distance. (County Courthouse pictured).
General Information for Liberty, Kentucky
Population: July 2002: 1,856 Males: 799 (43.2%), Females: 1,051 (56.8%).
Races in Liberty: White Non-Hispanic (97.8%), American Indian (0.8%), Two or more races (0.8%), Black (0.7%).
Nearest city with pop. 50,000+: Lexington-Fayette, KY (57.4 miles, pop. 260,512).
Nearest city with pop. 1,000,000+: Chicago, IL (365.2 miles, pop. 2,896,016).
Area code: 606

Average weather in Liberty, Kentucky

Normal climate around Liberty, Kentucky

Hospital/medical center in Liberty:
CASEY COUNTY HOSPITAL (187 WOLFORD AVENUE)
Other hospitals/medical centers near Liberty:
RUSSELL CO HOSP (about 21 miles; RUSSELL SPRINGS, KY)
FORT LOGAN HOSP (about 23 miles; STANFORD, KY)
EPHRAIM MCDOWELL REGIONAL MED CENTER (about 25 miles; DANVILLE, KY)
Airports certified for carrier operations nearest to Liberty:
BLUE GRASS (about 55 miles; LEXINGTON, KY; ID: LEX)
LOUISVILLE INTL-STANDIFORD FIELD (about 81 miles; LOUISVILLE, KY; ID: SDF)
BOWLING GREEN-WARREN COUNTY RGNL (about 106 miles; BOWLING GREEN, KY; ID: BWG)
Other public-use airports nearest to Liberty:
LIBERTY-CASEY COUNTY (about 9 miles; LIBERTY, KY; ID: I53)
STUART POWELL FIELD (about 21 miles; DANVILLE, KY; ID: DVK)
RUSSELL COUNTY (about 25 miles; JAMESTOWN, KY; ID: K24)
Back to the top
Public high school in Liberty:
CASEY COUNTY HIGH SCHOOL (Students: 678; Location: 1841 E KY 70; Grades: 09 - 12)
Public primary/middle schools in Liberty:
CASEY COUNTY MIDDLE SCHOOL (Students: 392; Location: 1673 E KY 70; Grades: 07 - 08)
LIBERTY ELEMENTARY SCHOOL (Students: 355; Location: 75 COLLEGE ST; Grades: KG - 06)
DOUGLAS ELEMENTARY SCHOOL (Students: 199; Location: 7545 KY 49; Grades: KG - 06)
PHILLIPS ELEMENTARY SCHOOL (Students: 159; Location: 8349 W KY 70; Grades: PK - 06)
Private primary/middle schools in Liberty:
GALILEAN CHRISTIAN ACAD (Students: 60; Location: PO BOX 880; Grades: UG - UG)
TURKEY CREEK ELM (Students: 26; Location: 258 SLOAN FORK RD; Grades: 1 - 8)
MCBEATH SCHOOL (Students: 25; Location: 135 THOMAS RIDGE SPUR RD; Grades: 1 - 8)
SOUTH FORK ELEMENTARY (Students: 9; Location: 3062 SOUTH FORK RIDGE RD; Grades: 1 - 8)
CASEY AMISH MENNONITE SCHOOL (Students: 5; Location: 269 LEWELLEN RD; Grades: 1 - 7)
Back to the top
LIBERTY LINKS
---
Up to the Top
---
BillyLand
HC15, Box 495c, Highway 152
Hanover, NM 88041
Toll free (800) 724-0551