Select Menu: Montana Home || Sample Sales Agreement || Montana Information || Lewiston Montana || Alternative Utilities
LEWISTON MONTANA INFORMATION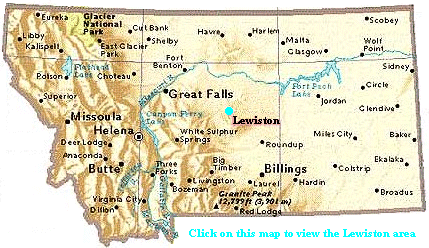 Lewiston, the geographic center of Montana, began as a small trading post. The impressive Judith, Moccasin and Snowy Mountains surround it. Spectacular scenery and wildlife viewing abound in the area.

In downtown Lewiston you'll find historical charm mixed with a modern business district. The historic Silk Stocking and Central Business districts, Courthouse Square, Judith Place and Stone Quarry are listed on the National Register and are easily explored with self-guided tours.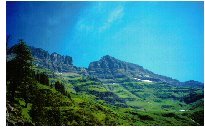 Outdoor adventures include camping, non-motorized boating, fishing, swimming, and hiking at beautiful Crystal Lake in the Big Snowy Mountains just south of Lewiston. Winter fun in the area includes fossil and ice cave exploration. Judith Park Recreation Area is located in the Judith Mountains north of Lewiston. A gravel road will take you to the summit for outstanding 100-mile views of the surrounding mountains.

Annual events include the Montana Cowboy Poetry Gathering and Montana Chokecherry Festival. A great way to see the surrounding area is aboard the Charlie Russell Chew-Choo, a 3 1/2 hour dinner train ride, summer through fall, with special scheduled holiday runs.
Links to Montana information.

Click here For info on ALTERNATIVE RESOURCES FOR RURAL HOMES

---
BillyLand
HC71, Box 495c
Hanover, NM 88041
Toll free (800) 724-0551